Info
welcome
info
orga & crew
contact
rules
going to the party
ticket info
buying a ticket
guestlist
guestlist light
seats
how to get here
at the party
concept
compos
timetable
network
after the party
download
goodbye
thanks
and now what?
Misc
database
login/register
Concept

OK, let's just break this down to you so you know what will happen.
With a rough map over the partyplace you will get the idea.
Scroll down to read more under the picture.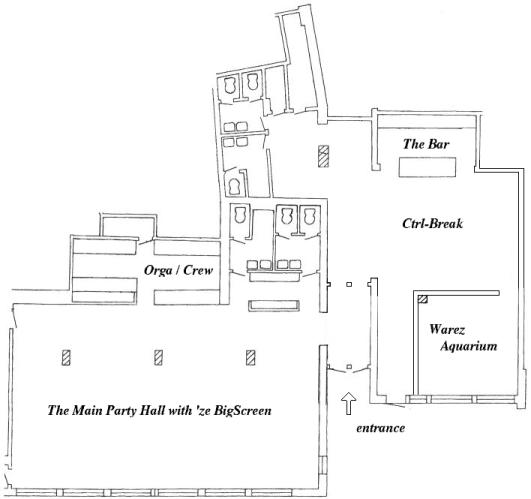 As you can see the are several areas.

The Main Party Hall
This is where the action is! This is where the bigscreen is! This is where the compos will be held, where most of the people will be and where the deadline crew will entertain the masses.

Warez Aquaruim
Beware! FLT and other golden oldies are doing it oldskool, they want to be alone, they want to be undisturbed (what odd things are they up to?). If you are not careful you might be dragged in here and leave with a memory loss. If you are deemed lame by them you might even get a beatin' (Ouch, these oldskoolers are way too rough).

Ctrl-Break
Control your break, and relax, have a snack, have a warm meal. This area is the only area where you are allowed to eat WARM food, please remember this. This area will also be good for talking at a normal level without a lot of loudspeakers.

The Bar
Ah, heaven! Warm Food, Food, Softdrinks, Candy and if you are 20 years or older (yes, TWENTY!) you might even get some alcohol here. Regular deadline tradition (and it will be CHEAP this time).

Orga / Crew
Special area and private workspace for the Crew (and secret hideout for Psychad so he can relax). Here is where the bigscreen is controlled, here is where the compos are organized, here is where you ask all your other questions. Come by and socialize with a deadline organizer, and play with our hardware!


Sleeping
Want to sleep? Yes, at some point, maybe, and so do we. We will keep the main party hall pretty silent during the late night, we will also hand out earplugs at the crewdesk.


Forbidden everywhere
Puking and smoking.